Bos Suspension - Our story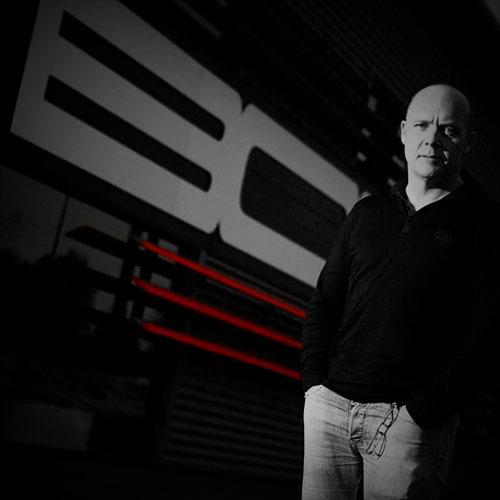 En 1985
Olivier Bossard ouvre son premier amortisseur ... celui de sa Motocross Honda.
C'est au début des années 1990 qu'il découvre le VTT et trouve le matériel perfectible.

Il développe alors sa propre fourche et la propose à Max Commencal qui l'embauche chez SUNN.
Deux ans plus tard il développe la fourche du Vététiste de descente François Gachet, aboutissant sur un titre mondial en 1994.
Dès lors, il accepte le poste de chargé de développement du vélo de course de DH chez Sunn et développe les suspensions Obsys des vélos de la grande époque : le modèle Radical +

In 1985
Olivier Bossard opens his first shock absorber... the one of his Honda Motocross.
k
In the early 1990's, he discovers mountain biking and finds the equipment perfectible.
He then develops his own fork and proposes it to Max Commencal who hires him at SUNN.
Two years later he developed the fork of downhill biker François Gachet, leading to a world title in 1994.
From then on, he accepted the position of development manager for DH racing bikes at Sunn and developed the Obsys suspensions for the bikes of the great era: the Radical + model.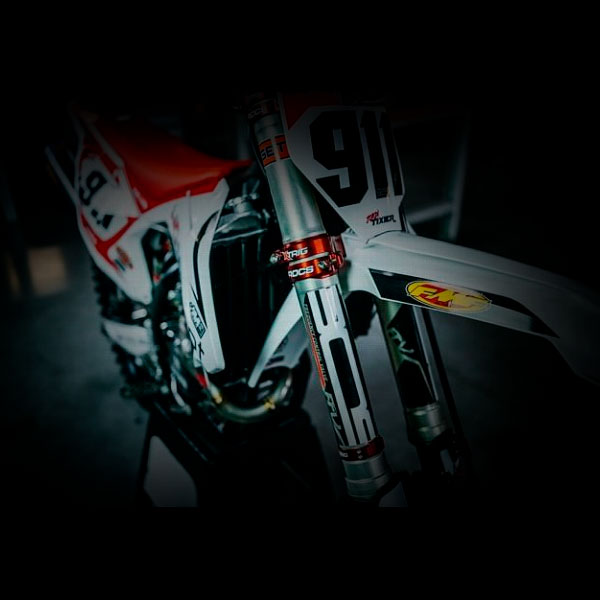 ---
DEBUT DE BOS SUSPENSION
Olivier Bossard quitte Sunn et lance sa propre société : BOS Suspension est née.
START OF BOS SUSPENSION
Olivier Bossard leaves Sunn and launches his own company: BOS Suspension is born.
---
TECHNOLOGIE CAS
Lancement de la technologie CAS sur le vélo V Process de Nicolas Vouilloz.

CAS TECHNOLOGY
Launch of the CAS technology on the V Process bike of Nicolas Vouilloz.
---
SPORT AUTOMOBILE
BOS se tourne vers le sport automobile

MOTORSPORT

BOS turns to motorsports
---
WRC
BOS Suspension débute l'aventure WRC avec Mitsubishi

WRC
BOS Suspension starts WRC adventure with Mitsubishi
---
PARIS - DAKAR
Victoires au Paris-Dakar avec Mitsubishi équipée en BOS, avec la technologie CAS issue du VTT.
PARIS - DAKAR
Victories in the Paris-Dakar with Mitsubishi equipped with BOS, with CAS technology from the mountain bike.
---
LE RETOUR AU VELO
Retour au vélo avec des kits cartouches pour les marques concurrentes qui rencontrent un grand succès et se vendent tous en 10 jours. Lancement d'un amortisseur de DH.
BACK TO CYCLING
Back to cycling with cartridge kits for competing brands that are very successful and sell out in 10 days. Launch of a DH shock absorber.
---
LANCEMENT DE LA FOURCHE IDYLLE
Retour au vélo avec le lancement de la fourche de DH Idylle (Pro). Après avoir essayé de sous-traiter certaines pièces à des fournisseurs, le résultat n'étant pas satisfaisant, la décision est prise de produire à nouveau une fourche complète.
LAUNCH OF THE IDYLLE FORK
Back to the bike with the launch of the Idylle (Pro) DH fork. After having tried to subcontract some parts to suppliers, the result being unsatisfactory, the decision is taken to produce a complete fork again.
---
MOTORCROSS
Début des tests des produits Motocross
MOTORCROSS
Motocross products testing begins
---
INNOVATIONS
Arrivée officielle en motocross avec le lancement de la fourche à air, dans un secteur qui a peu évolué depuis 20 ans. BOS dépose 3 brevets en 2 ans.

INNOVATIONS
Official arrival in motocross with the launch of the air fork, in a sector that had not evolved much for 20 years. BOS registers 3 patents in 2 years.
---
TOYOTA
Première année de WRC avec Toyota Gazoo Racing, conclue à la 3ème place au classement constructeur.
TOYOTA
First year of WRC with Toyota Gazoo Racing, concluded at the 3rd place in the manufacturer's standings.
---
TEAM MOTO BOS
Lancement du Team Moto MXGP BOS GP avec Jordi Tixier et Evgeny Bobryshev.
TEAM MOTO BOS
Launch of the MXGP BOS GP Moto Team with Jordi Tixier and Evgeny Bobryshev.
---
TEAM BOS FACTORY
Le Team BOS GP devient Factory et reçoit le soutien de Kawasaki
TEAM BOS FACTORY
BOS GP Team becomes Factory and receives support from Kawasaki
---
AGRANDISSEMENT DE L'USINE

Soutenue par la Région Occitanie, notre usine recule ses murs et s'offre une surface de production doublée. Le cap est clair, se diriger vers l'usine du futur et un système global interconnecté entre les conceptions CAO, les machines et les différents ateliers de montages/assemblages.
EXPANSION OF THE FACTORY

Supported by the Occitanie Region, our factory is moving its walls back and doubling its production area. The course is clear, to move towards the factory of the future and a global system interconnected between CAD designs, machines and the various assembly workshops.